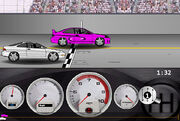 Drag Racer V3 is a drag racing Flash game developed by XGen Studios and released in February 2010.
(Flash player has recently been discontinued starting Jan 12th 2021)
In this game, the player must control every aspect of their vehicle to try and attain high speeds on the drag strip. Typically, in most racing games, a player has to simply control the acceleration, put breaks, and turn, while in this game, the player has to additionally control the gas and gear shifting and time their gear changes well to gain the highest speeds.
Career Mode In this mode, the player can start from the bottom and work their way up to become a better drag racer. They can also compete in races to earn money and upgrade their drag racer.
Arcade Mode: In this mode, the player can test their drag skills by trying out all of the available vehicles here.
Lots of car choices
Visual graphics
Three game modes
Detailed car information
Customization for owned cars
Community content is available under
CC-BY-SA
unless otherwise noted.