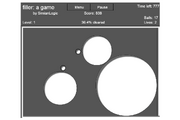 Filler (stylized as filler) is a puzzle Flash game created by SimianLogic and published on Kongregate on January 11, 2008.
Description
[
]
In this game, the player has a simple goal to fill 2/3 of the level. To create a filler ball, the player has to press down and it will grow until they release the mouse button, it hits another filler ball, or a bouncing ball runs into it.
Instructions
[
]
Mouse down to create a filler ball.
Release the mouse to freeze it.
There is a limited number of lives and balls at each level.
If the player squashes a bouncing ball, it will reappear at the top right corner.